None Have Done Better, a fascinating collection of short biographies of CRGS pupils and masters killed during the First World War, is published by CRGS and the OCS in October, to coincide with the centenary of the end of the war in November.
The book, edited by OC Jonathan Spurrell, includes photographs and a series of essays covering those parts of the Great War in which CRGS students and masters fought.
Many of the graves of our dead were visited during the First World War centenary years by pupils, OCs, teachers and other friends of CRGS. Photographs and accounts of some of the visits are also included.
The book will be available on Amazon, but this is an opportunity to purchase this unique work at a heavily discounted price.
This is also an opportunity to purchase copies of OCS Past President Trevor Hearn's acclaimed history of CRGS, Vitae Corona Fides. This can be purchased at the reduced price of £20 only if ordered with None Have Done Better. Normal price £27.99.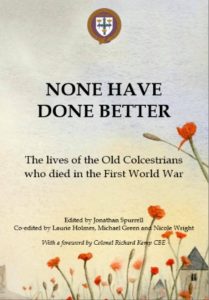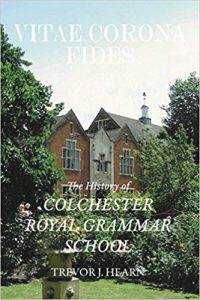 To place your order, please download the order form
Alternatively, order from Amazon using this link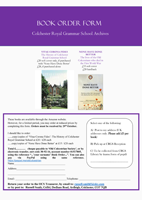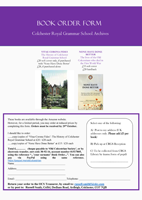 The 78 former pupils and teachers of CRGS who are commemorated on the school's war memorial and whose lives are retold in None Have Done Better: The lives of the Old Colcestrians who died in the First World War are listed in the table below. Brothers are shown in italics.
| Surname | Given names | Rank | Regiment/Service | Cemetery/Memorial | Country | Date of death | Age |
| --- | --- | --- | --- | --- | --- | --- | --- |
| Allen | Thompson | Corporal | Essex Yeomanry | Menin Gate Memorial, Ypres | Belgium | 13-May-15 | 21 |
| Bacon | Sidney Arthur | Second Mate | Royal Mail Ship Khiva | All Saints' church, Sanderstead (possibly) | United Kingdom | 07-Dec-17 | 28 |
| Barber | Claud William | Corporal | Royal Engineers | Janval Cemetery, Dieppe | France | 21-Oct-18 | 25 |
| Bareham | Walter Charles | Corporal | Essex Yeomanry | Arras Memorial | France | 11-Apr-17 | 20 |
| Barker | John | Private | Essex Yeomanry | Menin Gate Memorial, Ypres | Belgium | 13-May-15 | 21 |
| Barnes | Alan | Second Lieutenant | Royal Air Force | Duisans British Cemetery, Étrun | France | 26-Sep-18 | 19 |
| Barnes | Claud Haddon | Ordinary Seaman | Royal Navy | St. Oswald's church, Howell | United Kingdom | 09-Feb-17 | 19 |
| Barnes | Geoffrey Gabbott | Cadet Apprentice | Merchant Marine | Tower Hill Mercantile Marine War Memorial | United Kingdom | 23-Dec-18 | 16 |
| Barrell | Victor Henry | Second Lieutenant | Royal Fusiliers | Dernancourt Communal Cemetery Extension | France | 22-Aug-18 | 20 |
| Bawtree | David Edward | Private | Black Watch (Royal Highlanders) | Denain Communal Cemetery | France | 29-Jun-18 | 23 |
| Beard | Edwin Cyril | Lieutenant | Essex Regiment | Jerusalem Memorial | Israel and Palestine | 26-Mar-17 | 25 |
| Becker | Charles Hereward | Captain | East Surrey Regiment | Grandview Cemetery, Chillicothe, Ohio | United States of America | 08-Aug-18 | 21 |
| Bennett (teacher) | G. F. | Lieutenant | | | | Before 1 July 1916 | |
| Brand | Eric Jermyn | Second Lieutenant | Essex Regiment | Bucquoy Communal Cemetery Extension | France | 23-Aug-18 | 22 |
| Brooke | Charles Berjew | Lieutenant (Temp. Captain), MC | Yorkshire Regiment | Peronne Road Cemetery, Maricourt | France | 01-Jul-16 | 21 |
| Bultitude | Frank Stanley | Private | Essex Regiment | Thiepval Memorial | France | 21-Oct-16 | 20 |
| Cheshire | William Robert | Second Lieutenant | Essex Regiment | Knightsbridge Cemetery, Mesnil-Martinsart | France | 01-Jul-16 | 27 |
| Chignell | Stephen Conway | Private | Alberta Regiment | Boulogne Eastern Cemetery | France | 28-Apr-15 | 28 |
| Clark | Leslie William | Rifleman | London Regiment | Étaples Military Cemetery | France | 08-May-17 | 19 |
| Davies | Edwin Gilson | Writer, 1st Class | Royal Navy | Colchester Borough Cemetery | United Kingdom | 16-Jan-19 | 26 |
| Davies | Herbert Alfred | Company Quarter-master Serjeant | Australian Army Service Corps | Damascus Commonwealth War Cemetery | Syria | 17-Oct-18 | 26 |
| Deane | George Frederic Field | Second Lieutenant | Essex Regiment | Philosophe British Cemetery, Mazingarbe | France | 22-Apr-17 | 20 |
| Denton | Arthur | Captain | Essex Regiment | Helles Memorial, Gallipoli | Turkey | 15-Aug-15 | 37 |
| Dunningham | Thomas George | Private | London Regiment | Arras Road Cemetery, Roclincourt | France | 25-Sep-15 | 21 |
| Essex | Percy Clifford | Second Lieutenant | Lancashire Fusiliers | Thiepval Memorial | France | 09-Sep-16 | 21 |
| Everett | Walter Reginald | Lieutenant | Essex Regiment | Noeux-les-Mines Communal Cemetery Extension | France | 04-Sep-17 | 26 |
| Fairhead | Sidney Charles | Private | Essex Yeomanry | Menin Gate Memorial, Ypres | Belgium | 13-May-15 | 19 |
| Fieldgate | Robert Leslie | Private | Machine Gun Corps | Tyne Cot Memorial | Belgium | 30-Oct-17 | 20 |
| Fitch | Leonard Belcham | Private | Essex Yeomanry | St. Mary's church, Mundon | United Kingdom | 08-Jul-18 | 22 |
| Flanegan | Lionel Christopher | Second Lieutenant | Tank Corps | Cambrai Memorial, Louverval | France | 20-Nov-17 | 21 |
| Flux | Jack | Trooper | 10th Australian Light Horse Regiment | Lone Pine Memorial, Gallipoli | Turkey | 07-Aug-15 | 22 |
| French | Arthur Henry | Bombardier | Royal Garrison Artillery | Oxford Road Cemetery, Wieltje | Belgium | 04-Oct-17 | 34 |
| Frost | Leonard Arthur | Rifleman | London Regiment | Jerusalem War Cemetery | Israel and Palestine | 20-Feb-18 | 25 |
| Girling | Charles James | Lance Corporal | Essex Regiment | Loos Memorial, Dud Corner Cemetery, Loos-en-Gohelle | France | 19-Apr-18 | 24 |
| Gladwell | Osmond Ernest | Corporal | Royal Army Pay Corps | Greenwich Cemetery | United Kingdom | 08-Nov-18 | 20 |
| Gregg | Frederic Gordon | Rifleman | London Regiment | Menin Gate Memorial, Ypres | Belgium | 08-May-15 | 21 |
| Harsum | George Frederic | 5th Engineer Officer | Merchant Marine | Tower Hill Mercantile Marine Memorial | United Kingdom | 10-Aug-18 | 23 |
| Harvey | Claude Lindsay | Second Lieutenant | The Queen's (Royal West Surrey Regiment) | Pozières Memorial, Ovillers-la-Boisselle | France | 23-Mar-18 | 27 |
| Helps | Frank Bovett | Rifleman | London Regiment | Potijze Burial Ground, Ypres | Belgium | 23-Jul-15 | 21 |
| Higginson | John Thomas Gordon | Second Lieutenant | Royal Flying Corps | Crewe Cemetery | United Kingdom | 01-Nov-17 | 19 |
| Higginson | William Clifton Vernon | Second Lieutenant | Royal Flying Corps | Flying Services Memorial, Arras | France | 20-Nov-17 | 21 |
| Horwood | Ronald Bentall | Second Lieutenant | Essex Regiment | Ancre British Cemetery, Beaumont-Hamel | France | 01-Jul-16 | 22 |
| Hussey | Frank William | Lieutenant | Leicestershire Regiment | Bellicourt British Cemetery | France | 24-Sep-18 | 29 |
| Jarmin | Raymond Victor | Private | Royal Army Medical Corps | Colchester Borough Cemetery | United Kingdom | 02-Nov-18 | 24 |
| Jarrard | Cecil Herbert | Private, MM | Essex Regiment | Bancourt Cemetery | France | 12-Oct-16 | 21 |
| Keeble | John Harold | Second Lieutenant | Royal Flying Corps | St. Michael's church, Brantham | United Kingdom | 27-Oct-17 | 19 |
| Keigwin | Henry David | Second Lieutenant | Lancashire Fusiliers | Bouzincourt Communal Cemetery, Somme | France | 20-Sep-16 | 35 |
| King | John Hedley | Private | Northamptonshire Regiment | Mont Huon Military Cemetery, Le Tréport | France | 28-Apr-18 | 21 |
| King | William Hugh | Lieutenant | Royal Flying Corps | Mendinghem Cemetery, Proven | Belgium | 11-Apr-18 | 24 |
| Lawrence | Albert Dudley | Corporal | Royal Berkshire Regiment | Villers Hill British Cemetery, Villers-Guislain | France | 27-Sep-18 | 22 |
| Malyn | Reginald | Serjeant | Honourable Artillery Company | Arras Memorial | France | 18-Apr-17 | 21 |
| Mason | Conrad | Corporal | Royal Field Artillery | Vlamertinghe New Military Cemetery, Ypres | Belgium | 01-Oct-17 | 23 |
| Miller | Eric Charles | | | | | 23-Jun-17 | 16 |
| Minor | Roland | Second Lieutenant | King's Own (Royal Lancaster) Regiment | Euston Road Cemetery, Colincamps | France | 01-Jul-16 | 21 |
| Munford | Reginald Harry Bond | Second Lieutenant | Royal Air Force | Cairo War Memorial Cemetery | Egypt | 26-Sep-18 | 19 |
| Norfolk | Alfred Edward | Rifleman | London Regiment | Les Gonards Cemetery, Versailles | France | 24-May-15 | 26 |
| Orfeur | Charles Bernard | Lieutenant | Royal Naval Air Service | Dunkirk Town Cemetery | France | 01-Jul-17 | 25 |
| Orfeur | Howard West | Lieutenant | Essex Regiment | Albert Communal Cemetery Extension | France | 23-Aug-18 | 29 |
| Peacock | Arnold | Serjeant | Royal Field Artillery | Bailleul Communal Cemetery Extension | France | 13-Jul-17 | 22 |
| Prime | Edward John | Private | Essex Yeomanry | Menin Gate Memorial, Ypres | Belgium | 13-May-15 | 20 |
| Pulford | Arthur | Rifleman | London Regiment | Thiepval Memorial | France | 09-Oct-16 | 22 |
| Salisbury | William Hunter | Engine Room Artificer, 5th Class | Royal Navy | Lyness Naval Cemetery, Orkney | United Kingdom | 05-Jun-16 | 19 |
| Sanger | Harry | Private | Essex Regiment | Étaples Military Cemetery | France | 01-Nov-17 | 23 |
| Secker | John Devereux | Second Lieutenant | Essex Regiment | Colchester Borough Cemetery | United Kingdom | 13-Dec-16 | 22 |
| Shenton | Austin Kirk | Captain, MC | Royal Engineers | Crouy British Cemetery, Crouy-Saint-Pierre | France | 26-Jul-18 | 22 |
| Slade | Charles Godfray Mitford | Major | West Yorkshire Regiment | Menin Gate Memorial, Ypres | Belgium | 08-Nov-14 | 36 |
| Smith | Aubrey George | Serjeant | London Regiment | Pozières Memorial, Ovillers-la-Boisselle | France | 21-Mar-18 | 31 |
| Sparling | Arthur Edward | Lieutenant | Essex Regiment | St. James's church, Runcton Holme | United Kingdom | 19-Feb-15 | 36 |
| Town | Henry Gilbert | Rifleman | London Regiment | Wancourt British Cemetery | France | 03-May-17 | 25 |
| Wagstaff | Douglas | Private | Coldstream Guards | Grove Town Cemetery, Méaulte | France | 21-Sep-16 | 18 |
| Wallace | Dudley Whistler | Captain, MC | West Yorkshire Regiment | Tyne Cot Memorial | Belgium | 09-Oct-17 | 20 |
| Waring | Cyril Ernest | – | – | Mount Royal Cemetery, Montreal | Canada | 03-Nov-14 | 21 |
| Watson | Joseph Longstaff | Lieutenant | Canadian Expeditionary Force | Tyne Cot Memorial | Belgium | 08-Nov-17 | 26 |
| Webb | Albert Ernest | Private | London Regiment | Menin Gate Memorial, Ypres | Belgium | 16-Aug-17 | 26 |
| Webb | Arthur Henry | Second Lieutenant | East Kent Regiment | Menin Gate Memorial, Ypres | Belgium | 23-Jun-17 | 25 |
| White (teacher) | Stewart Alexander | Captain | Northumberland Fusiliers | Thiepval Memorial | France | 03-Jul-16 | 29 |
| Willmott | John Herbert Victor | Captain, MC | Essex Regiment | Arras Memorial | France | 28-Mar-18 | 20 |
| Wilson | Arthur Charles Binfield | Corporal | Royal Flying Corps | Sleepyhillock Cemetery, Montrose | United Kingdom | 25-Aug-16 | 40 |